Bimectin Oral Paste
(Ivermectin 1.87 mg/g)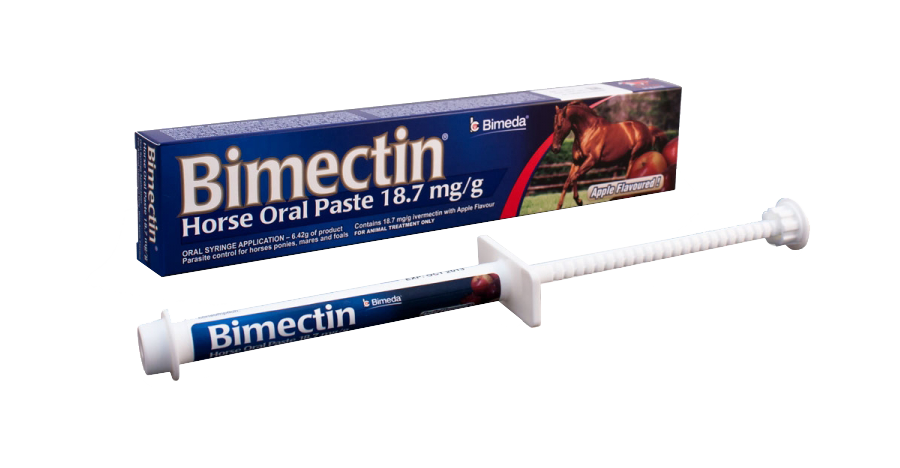 Bimectin Oral Paste with 1.87mg/g of ivemectin is an excellent option for the treatment of nematode or arthropod infestations in horses sensitive to ivermectin.
The calibrated syringe allows accurate dosing and the gel formulation facilitates absorption. What's more, the Bimectin Paste gel formulation is apple-flavoured, for excellent palatability and ease of dosing.
The product is safe to use in horses of all ages and offers broad-spectrum activity against a wide range of debilitating and performance-depriving parasites; meaning you can have every confidence when Bimectin Paste, as part of your parasite control strategy.
Indications
Bimectin is indicated for the treatment of nematode or arthropod infestations in horses due to:
Large strongyles
Small strongyles
Lungworms (adult and immatures)
Pinworms (adult and immatures)
Ascarids (adults and third & fourth stage larvae)
Hairworms (adults)
Large-mouth stomach worms (adults)
Neck threadworms (microfilariae)
Intestinal threadworms (adults)
Stomach bots (oral and gastric stages)
Ivermectin is not effective against the encysted larval stages of the small strongyles
Please note, parasite resistance to any particular class of anthelmintic may develop following frequent, repeated use of an anthelmintic of that class. For more information, visit our section on Responsible Anthelmintic Use & Resistance. If you are in any doubt regarding whether use of any anthelmintic is advisable, always consult your vet or animal health advisor prior to use.