Stomach Worms
The common stomach worms of cattle are:
Haemonchus placei (barber's pole worm, large stomach worm, wire worm),
Ostertagia ostertagi (medium or brown stomach worm), and
Trichostrongylus axei (small stomach worm)
These stomach worms all have similar lifecycles and cause similar disease manifestations.
Ostertagia ostertagi (bimectin injection, bimectin pour on and bimectin plus)
OstertagiosisOstertagiasis, a parasitic gastritis caused by the nematode Ostertagia ostertagi, is the most important of the gastrointestinal helminthic infections of cattle in temperate climates. Disease caused by this brown stomach worm only occurs in first and sometimes second season grazing stock as immunity is developed over this period.
Life Cycle
Ostertagia has a direct life cycle typical of the other stomach worms.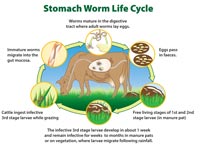 Eggs passed in the faeces develop into first-stage larvae (L,), which hatch develop, and moult to become second-stage larvae (L2), which in turn develop and moult to the third infective stage (L3).
All of this occurs in the faeces pat, and the L3 then migrates under moist conditions onto the herbage. The L3 retains the outer sheath of the L3 and is the most resistant of the free-living stages.
Following ingestion, the parasitic cycle involves development through the L3 and L4 stages in the gastric glands. This usually takes 21 days, by which time the adult parasite emerges from the glands onto the surface of the abomasal mucosa.
The adults mate and the female worm will then produce thousands' of fertilised eggs which pass out of the animal in the faeces. The lifecycle of the larval stages depends on appropriate warm and moist conditions, which are found in the British Isles from May onwards. Under the appropriate conditions of temperature and humidity; the eggs will develop into larvae.
There are two presentations of OstertagiosisOstertagiasis and of Parasitic gastro-enteritis in cattle generally:
Type 1: Adult worms living in stomach attached to the lining, causing damage to the gut lining and deprive host of nutrients. Usually occurs in grazing season. Animals affected usually don't thrive well and may have diarrhoea.
Type 2: Larval stage 4 burrows into stomach lining and emerge in large numbers causing explosive diarrhoea and may even be fatal. Usually occurs in December/January in the northern hemisphere following cold weather hibernation in the autumn but can occur in the autumn following warm weather hibernation in the summer.