Lice
(Pediculosis)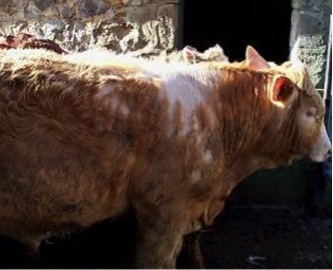 Louse populations are highest in cattle kept indoors during the winter months and heavy infestations cause irritation, leading to rubbing against feed barriers. This results in hair loss over the neck and shoulders and reduced DWG. Feed intake of cattle affected by external parasites such as lice, can drop by up to 10% and in cases of extreme infestation, anaemia may be seen.
Four species of lice infest cattle. They are classified as either biting lice (Damalina bovis) or sucking lice (Linognathus vituli or Haematopinus eurysternus, Solenopotes capillatus) . It not uncommon for cattle to be infected with more than one type of lice. This is particularly common in younger stock.
Life Cycle of Lice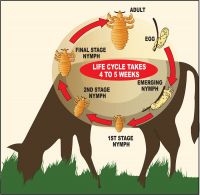 The louse life cycle take 4 to 5 weeks and is similar for both sucking and biting lice. The eggs hatch and develop through 3 nymph stages to adults. This is illustrated below.
The thick, winter coat of the animal provide the ideal environment for development, providing a warm, humid and protected environment.
How Are Lice Transmitted?
As lice are usually transmitted by host contact, winter housing provides the ideal conditions for the transfer of lice between cattle.