Lungworm
(Dictyocaulus viviparus)
Lungworm is also known as Hoose or Husk. Lungworm infestation is more prevalent in Europe than in North America.
Clinical signs of infection include coughing and difficulty in breathing. Affected cattle have an increased susceptibility to infective pneumonia. Immunity to lungworm develops quickly but is relatively short-lasting (approx. 6 months) in the absence of further infection.
At the start of each grazing season, following housing, cattle may have very little or no immunity to lungworm and thus are susceptible to new infections again. The periods of greatest challenge in temperate climates for animals are late summer and autumn. Reinfection Syndrome occurs in cows that are partly immune to Lungworm that are exposed to heavy larval challenge from pasture recently grazed by young susceptible animals. The cows may develop severe coughing and/ or milk drop as their immune system kills the migrating larvae. Such animals will not have Lungworm larvae detectable in faeces.
Life Cycle
The lungworm lifecycle is uniquely adapted amongst roundworms.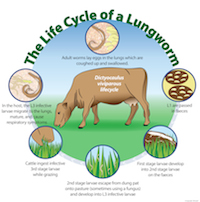 The life cycle of a lungworm begins with an ingestion of infective larvae. The larvae then penetrate the intestinal wall, and from here migrate into the lungs through the bloodstream. The infected larvae reside in the lungs until the development into an adult lungworm. The eggs of the adult hatch; producing L1 larvae. The eggs or L1 larvae that reside in the lungs are coughed up and then ingested back into the stomach and released into the environment via the faeces.
Lungworm and Fungus
The spread of lungworm is helped by a fungus (Pilobolus).
This orange fungus, regularly seen on cow dung pats in pastures, explodes, spreading the lungworm larvae all over the pasture.
Symptoms of Lungworm
Shortness of breath
Fever
Coughing (particularly after excitement)
In severe infestations, open mouth breathing
Bacterial or viral pneumonia can also gain a foothold requiring intensive veterinary treatment
Severe cases of lungworm infestation causes stunting of growth, poor thrive and chronic lung damage, often leading to relapses as the animal gets older.
How The Bimectin Range Can Help
Bimectin Injection, Bimectin Plus and Bimectin Pour On are all licensed to treat lungworm in cattle. Bimectin Injection is licensed to treat lungworm in cattle, sheep and pigs. Bimectin Paste is licensed to treat lungworm in horses.
Product
Licensed for Lungworms in:
Cattle
Sheep
Pigs
Horses
Bimectin Injection
Lungworms: (adult and fourth stage larvae)Dictyocaulus viviparus
Lungworms: Dictyocaulus filaria (adult and fourth stage larvae), Prostrongylus rufescens (adults)
Lungworms: Metastrongylus spp. (adults)
Not licensed for horses
Bimectin Plus Injection
Lungworms: (adult and fourth stage larvae)Dictyocaulus viviparous
Not licensed for sheep
Not licensed for pigs
Not licensed for horses
Bimectin Pour On
Lungworms: (adult and fourth stage larvae)Dictyocaulus viviparous
Not licensed for sheep
Not licensed for pigs
Not licensed for horses
Bimectin Paste
Not licensed for cattle
Not licensed for sheep
Not licensed for pigs
Lungworms: (adults and immatures)